Knotty Dog IV comes home (April 2010)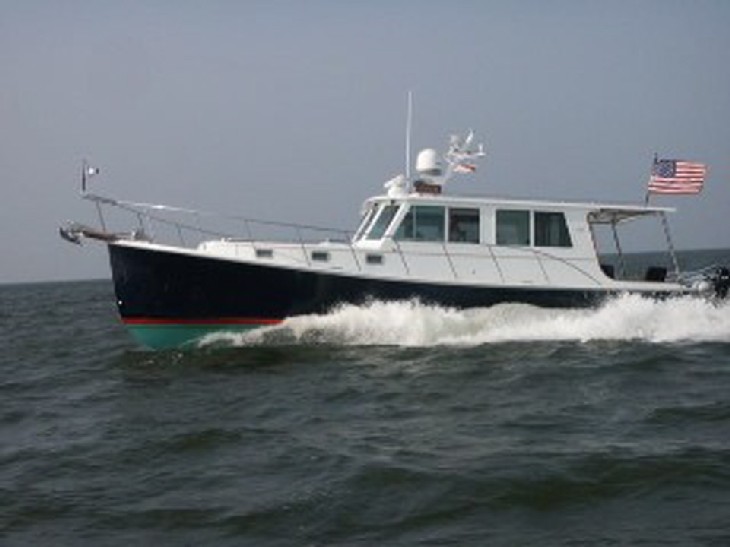 SEARCH FOR THE PERFECT BOAT
April 2008
Well, I guess you figured out by now that we made it back home from the Bahamas. I'm still finishing up the funny and exasperating stories of that trip that will be posted soon, but in the mean time, we have news that just can't wait. After the Bahamas trip, our first trip in a long time, without a boat, we pretty much decided that life wasn't as exciting or even remotely as enjoyable unless you could experience it by boat. And sooo.....the big search went on. It actually started in the Bahamas on our "vacation" (ie: similar to Chevy Chase "Vacation") when we were bored to tears and had internet access. Larry began looking for our next boat.
So, we asked ourselves, what would be the perfect boat for us? We didn't want a big boat anymore, been there, done that, as they say (though there are much bigger boats than our 57 Nordhavn, we say BIG because that was the MAX big for us). So to continue on, we didn't want BIG, or complicated, or high maintenance, or room for passengers (not that we don't like having guests, it's just that it's a lot of extra space to be hauling around when most of the time it's unused and empty). We discussed several options of what we might like but in the back of our minds it was a Down east boat. Ever since we were on the East Coast we were sold on the lobster (lobstah) style haul with a modified cabin for comfortable cruising. We loved the way they cut through the water, safe and sturdy, low and strong, determined. They have speed too as we so delighted in watching the lobster boat races in Maine! And they had Style and Traditional with a capital S and a capital T! They are a pleasure to the eye, well our eyes, that's for sure!
PROTECTOR'S HERE TO STAY
What about the Protector you say? She's going to stay right here in her cute little slip in Snug Harbor on San Juan Island. She's a great boat for the Pacific Northwest and the quick jaunts up to the islands or Vancouver Island, Seattle or Vancouver, heck we probably could take her up the Inside Passage all the way to Alaska, from B&B and fish resort to B&B and fish resort! We love the way she zips around getting us quickly to and from our nearby islands. Naw, she's here to stay.
WHY ANOTHER BOAT?
Well, then why are we looking for a Down east boat then? Well, Larry has a dream and it's not necessarily for the equality of the world's people, it's to do the Great Circle, and why not live your dream while you can? What the heck are you waiting for? It's only earth money an old friend used to say. You can't take it with you. We also wanted a place to go in the winter months and we had had enough of renting houses, being stuck to a schedule, or stuck in one place or in a house that doesn't feel like home. We wanted freedom and independence to go anywhere on our terms!
SEARCH WAS ON
So the search was on. We were pretty determined from the start what we were looking for and Larry began in earnest. He learned everything he could find about lobster boat hauls and there's a lot to know and say he still has only scratched the surface. We decided that what we liked was a Duffy haul originally designed by Lincoln Spencer. There are a gazillion types out there, the Wesmac, Duffy 37 & 38, Northern Bay, Zimmerman and a handful of high quality custom finishers like Campbell, Beale, Zimmerman and JW boats. We would love the idea of starting from scratch on a new boat but didn't want to spend the time and have to wait to enjoy the boat. If we could find one that fit our bill then that's what we were going to do. We want to live the life now as you never know what's around the corner.
Well, there's a lot to learn about the development and design of the perfect lobster style cruising boat. It's illuminating really to see what goes into the physics of the design and how it performs. We just scratched the surface as I said, but I think muddling our way through it all, Larry found the perfect boat and here's the story.
HOW CONVENIENT, JUST IN TIME FOR THE MIAMI BOAT SHOW
On our way back from the Bahamas we happened to land in Miami just in time for the Miami Boat Show. How convenient! We had an open mind and thought we'd see what else was out there so we decided to attend the show. Maybe there was some kind of boat that we hadn't thought of.
REQUIREMENTS
One key requirement was that we insisted on having a separate shower from the head. So that right away eliminated several options. In a small sized boat it can pose a space problem. Second thing, no guest quarters. 3rd thing, galley down as I'm a good cook but a messy one and no one wants to see my mess in clear view of the salon.
Nothing caught our attention or specs at the show, though many of the boats we saw were beauties and certainly would be nice to own. As we had a lot of boring time in the Bahamas, Larry did a lot of research on what was available on the used market. He narrowed his search down to about 9-10 boats that might fit the bill. We'd have meetings about them and go over every photo and spec. They were in several price ranges according to the shape they were in and what needed to be done to them. We weren't into rebuilding a boat but if the price was right and not too much needed to be done to her, we might be interested. Here was his list:
(3) Duffy 37's
(1) Wesmac 38
(1) Main Ship 36
(1) Ellis 36
(1) Northern Bay 36
(2) Legacy's
WE SPLIT, GOING IN DIFFERENT DIRECTIONS
They were scattered all up and down the East Coast. It was still winter so driving was not an option to go see them. So we both thought the best thing to do was for Zig and I to head west towards home and let Larry go see all the boats. We dropped Larry off at Orlando airport with his list and the plan was for him to catch up with us in Dallas where he'd join us the rest of the drive across the country.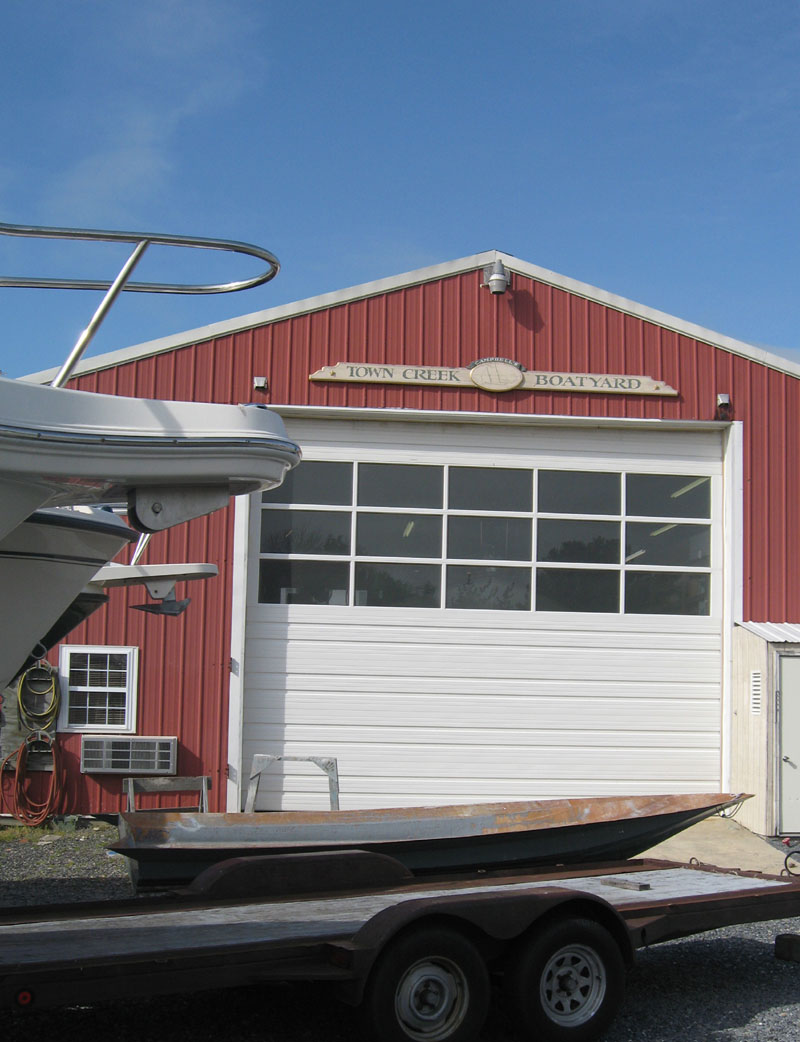 So off we went in separate directions. Larry's first stop was Baltimore, Maryland where he rented a car and drove to Oxford which is located up the neck of Tred Avon River in the Chesapeake to Campbell's boatyard, Tom Creek Boatyard to be exact, to see a boat they finished called "Ouzo". Larry liked her immediately but still had more to see.
Back over the bridge and to the airport in Baltimore to catch another flight that same day to Providence, Rhode Island. He had an appointment to see a Northern Bay. Next stop was to drive to just south of Boston to see an Ellis. This trip also included a visit to see a very nice Sabre 38 but though beautiful it didn't fit the style of cruising we planned to do. So off again and this time to Portsmouth to look at a Duffy 37 which turned out to be a "stupid mess" that couldn't be fixed.
Back in the car, he drove to Yarmouth, Maine to be exact to see a Wesmac 38, all in the middle of winter mind you. Then back he went to Portland to catch a multiple stop flight to Dallas where Ziggy and I arrived a few measly hours ahead just in time to pick him up at the curb as he landed! Whew!
IT WAS THE FIRST BOAT THAT FIT THE BILL
It was "Ouzo" the first boat on the trip. He said it had everything we needed and was beautifully crafted. I studied every detail in the photos and she did look like a beauty but maybe too claustrophobic I thought in the salon. I wasn't sure. It's hard to see the real picture in a photo. Larry's a big guy and he said it was roomy and the seats were comfortable and the salon was spacious. I believed him. He said this boat was "far superior to anything he'd seen, the workmanship put the rest to shame and it had everything we wanted and more and best of all it was less than 2 years old". She had 400 hours on her in 1 1/2 years. The price was high compared to other boats similar but she was the "Mercedes" of the bunch.
I listened carefully and was surprised that he had no criticism of the boat. She must be a beauty I thought. I loved the looks of her that's for sure. Funny thing was it matched the picture I took of a boat we saw on the East Coast that I kept. I loved the looks of this particular boat and thought at the time it would be a perfect boat for us after we were done with the Nordhavn style cruising.
NEGOTIATION BEGAN
So the negotiation began and finally a price was agreed upon and the surveys scheduled. The boat was on the hard in a storage building when Larry saw. It was dead winter of course so we would have to wait a bit for weather to schedule the sea trials. Finally a date was set and airline flights reserved.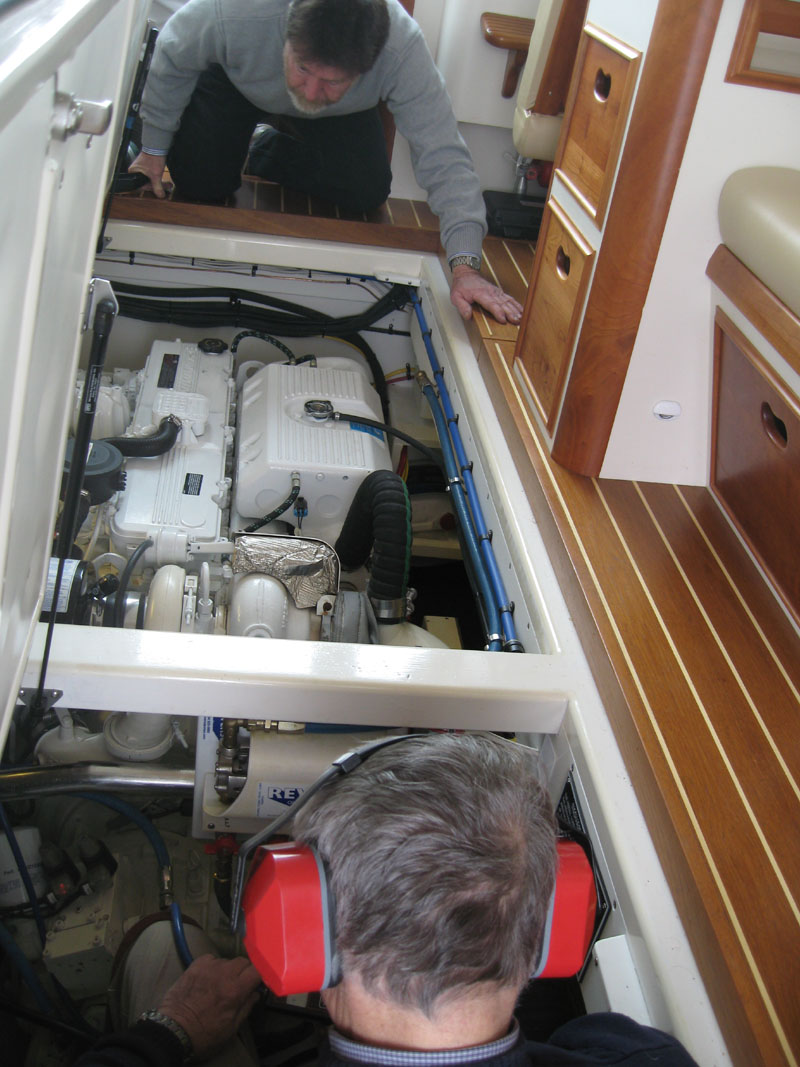 The sea trial and surveys were put into motion. It was going to be a quick and probably tiring trip for us as most of the trip time relegated to travel, and just one day to do the inspections and always with a right of refusal if I didn't like it as I only had photos to look at. That put a lot of pressure on me as I wondered what it would be like if after all this, I just didn't like the boat. Yikes! I tried not to think of it.
TO SEE THE BOAT
So, April 8th, we arrived in Baltimore, rented a car and headed to the quaint town of Easton on the Chesapeake. Oh it was so nice to be back here again with the lush green fields. The trees were just coming out in full spring bloom and the landscape was filled with yellow daffodils and forsythia and multi-colored tulips everywhere. We checked into the historical Tidewater Inn, a beautiful old inn and had a nice cozy dinner in their dining room, our table facing out on a crackling outdoor fireplace off their patio. There still was a bit of chill in the air.
I still didn't allow myself to get excited about the boat yet still not knowing if it was going to be the right boat. Photos cam be a bit misleading and I was worried the salon was going to be too crowded and the helm seats too high, etc. So it was better not to think too much about it until I see it. Larry was reviewing his notes and jotting down things to check and questions to ask. He was going over the specs of the boat in detail making sure he wouldn't miss anything.
We both slept like logs even though hitting the sack hours before West Coast bed time and we were up early, refreshed and ready to attack the day.
The town of Easton is full of charm, beauty and friendly people. I wished secretly that we had planned some extra time so that I could've enjoyed the town more but we had an agenda with limited time that took priority.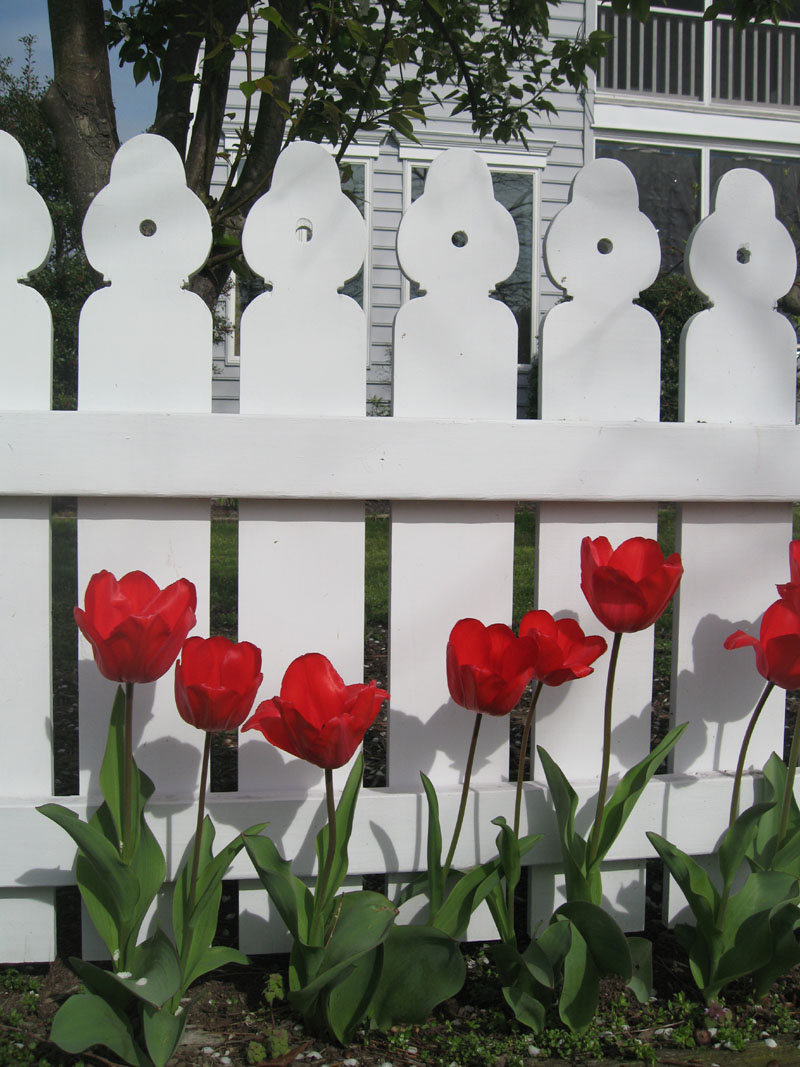 So off we went through the flowering tree shaded residential streets, past beautifully restored colonial buildings with freshly mulched garden beds, and red, pink and yellow tulips poking up everywhere in full bloom. Plants that were neatly groomed and covered over for winter were now beginning to put out their green leaves of stored energy for the full glory of spring just arriving. I love spring on the East coast as it's a wonder to see that no native west coast native could ever imagine.
We wandered down through a residential area, past glimpses of classic sailboats and those wonderful oyster boats. It is such a picturesque area. Ducks were paddling and dunking their heads looking for breakfast and a lonely rower was breaking the calm flat reflective water through the early morning mist. Birds were acting silly in their busy frenzy of spring fever and nest building, so much so that Tom Campbell of Campbell Boat yard later said they had to wrap paint rags over their side view mirrors on their cars as the birds were going nuts with them. Ospreys were sitting on their huge stick bundled nests and seagulls were flying by with large packages of trailing twigs and straw to make bedding for their spring nests stuffed into odd niches in the Bay Bridge. It was crazy and wonderful.
"THERE SHE IS!"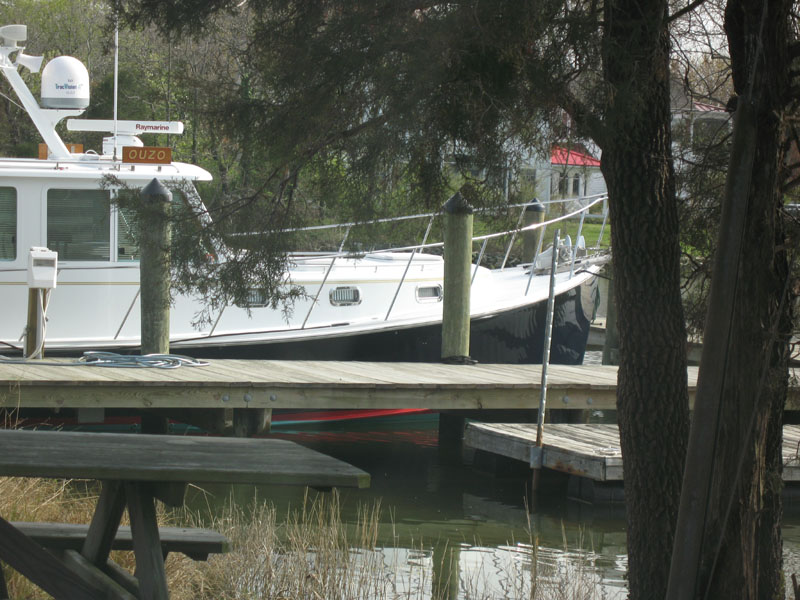 We turned a corner on the residential street and Larry says, "There she is!" Ah, she was a beauty I thought! I couldn't believe it too as suddenly I recognized the surroundings. This was the very spot that I took the photo of my dream boat a few years ago when we came through with the Nordhavn. My God, the boat was even in the same slip! Our potentially future boat was in the exact same spot at the same dock and same boat yard as the picture!!! I didn't realize that Campbell Boat yard was the place we wandered down to a few years ago! Somehow this all seemed meant to be.........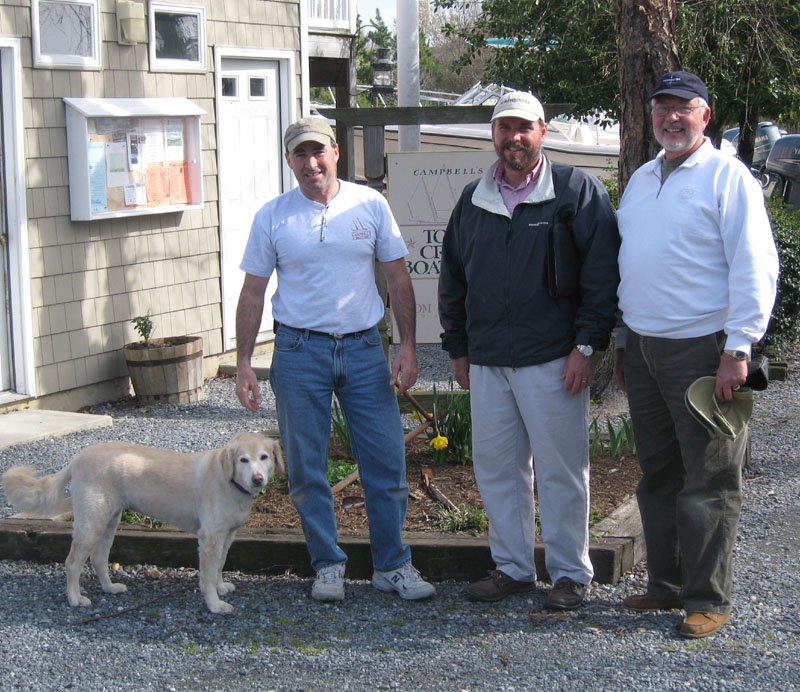 We were greeted by Todd Taylor (center) our broker who ironically is representing both parties, the seller and buyer. He's a nice friendly guy and we feel like he is giving both buyers a fair shake which must be a difficult job to stay neutral. We also met Tom Campbell (Left) the owner of Campbell boat yard, the fabricator and finisher of this Duffy 37 that we are hoping to buy. I'm sure all eyes were on me, not for any reason other than to see my reaction to the boat because Larry said if I didn't like it we wouldn't buy it and the deal was over. He may not have said it in such blatant words but I'm sure everyone knew that was the jest of it. But by now Larry knows me pretty darn well and it was obvious the minute I saw her that he took in all my considerations and concerns when looking for this lovely boat, making sure it met both of our requirements.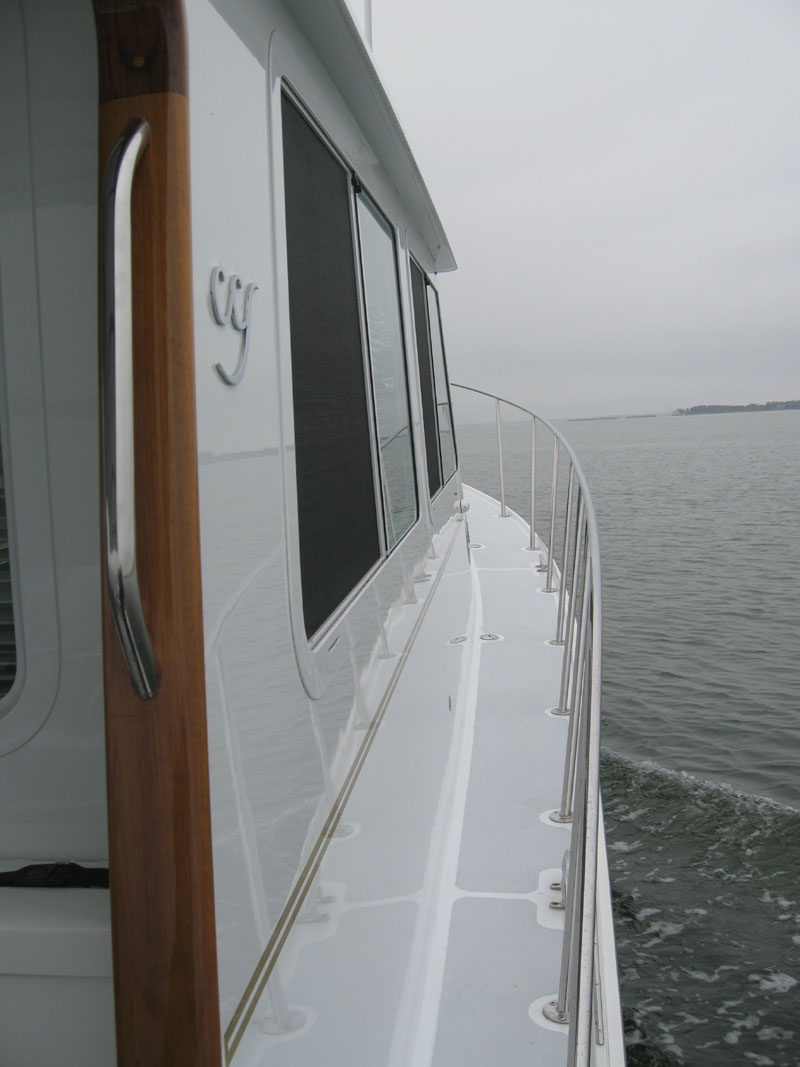 IT WAS PERFECT!
It was perfect!!! The workmanship was impressive in everyway. The edges were finished and sculpted soft to the feel and the built-ins comfortable like a fine pieces of high quality furniture. Storage was well thought out taking into consideration every possible thing. The previous owners and the boat yard did a great job with this boat.
The space was open and airy and the finishes and colors were easy to the eye, well chosen and coordinated and neutral enough for us to add our personal accents to make it feel like home.
The appliances were top notch and the storage plentiful for this size boat and they made use of every square inch. It was completely wired for great stereo sound and cabinets built to even accommodate a few bottles of wine or booze. They had a flat screen TV installed in the salon with surround sound and another in the stateroom and both were set up with Satellite reception.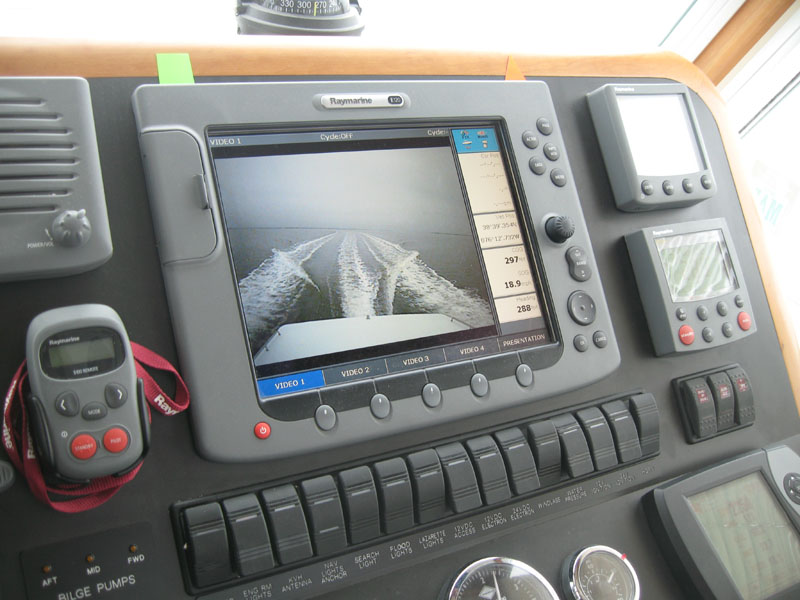 The electronics are a step up from what we have on the Knotty Dog the 2nd (57 Nordhavn) and well laid out on the dash for an impressive display and functionality.
The helm seats were extremely comfortable and positioned for ultimate visibility while underway. In front of my helm seat is a nicely designed chart table with lift up top for storage below and a nice wide chart drawer below that. Several niches for book storage were strategically placed throughout the boat with reading lights positioned with the same thoughtfulness. The dinning banquet was comfortable and just the right size. The inlaid wooden top was enhanced with a slight bevel to soften the edges. Surprisingly it was also cleverly designed to fold down into a sleeping platform though you would never have guessed by looking at it. Everything was first class, even down to the dimmers on all the lighting. It was more than I had imagined.
READY TO GO
It was complete and perfect and most important ready to go. All we have to do is change the name, add our personal touches and Voila! This was what we were hoping for, to find a boat just like this. If we had started from scratch with a new hull it would have taken a year or more and a lot of time and decisions, and probably have cost us much more. We couldn't have done any better on our own as they designed her perfectly! We are lucky to have found this boat!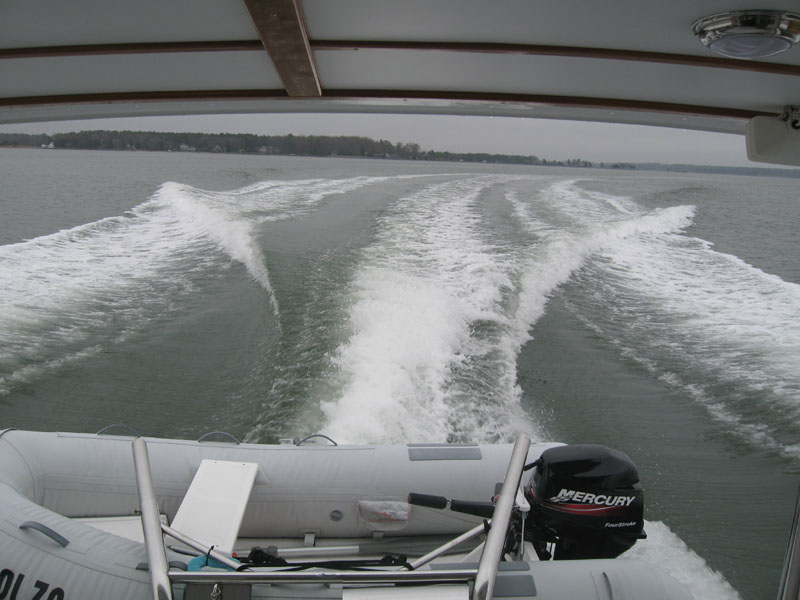 Sea Trials went perfectly too, in fact, we were surprised that the boat had more pick up and speed than we expected with five people aboard and with all the "stuff" that was put into this boat, we feared it might be heavy and run sluggish. But, no, she just took off and rode smooth as silk and cut through some ferry wakes like they were soft butter. The visibility underway was great too as we were worried that the bow underway might rise up and make it hard to see ahead. We could clearly see everything and there are windows, big window on all sides for great viewing.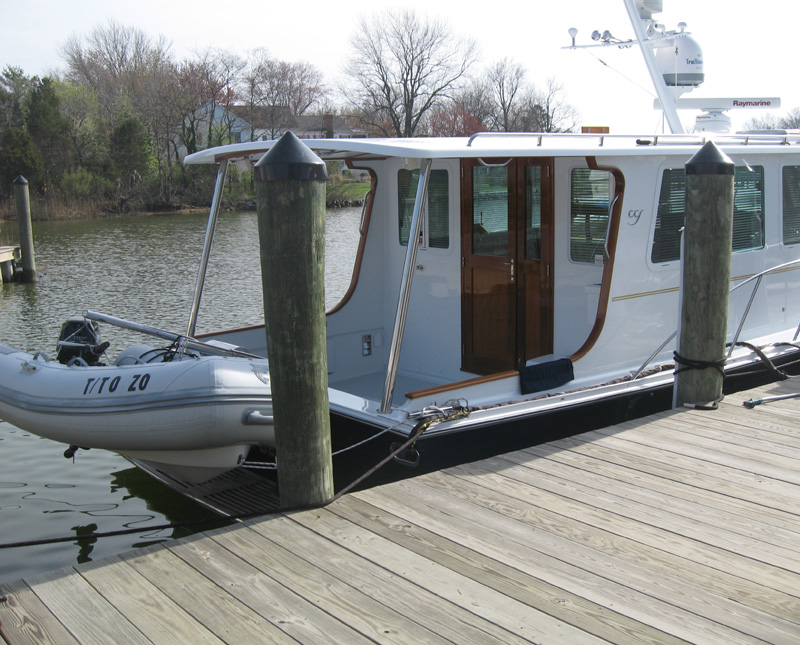 The thing I like the best though is the two back doors to the cock pit. They are polished teak, with windows and both open out. They are beautiful, no stunning!
The boat has a spacious cockpit with a built in hard sun cover that will give us lots of protection from the sun so we can sit out back comfortably.
When we docked the boat the walk-around makes it so easy to handle the lines for docking. The boat also has bow thrusters to help in those tight situations. What a luxury! The boat also has an electric davit to hold the dinghy and gently put it in the water off the swim deck in the back and guess what? It comes with the dinghy. Already done. We don't have to shop for a darn dinghy and motor either.
So--------we came away feeling very happy. She'll be a welcome addition to our family and we can envision lots of good journeys with her.
WHAT ARE THE CRUISING PLANS?
You may be wondering how we are going to get her home to the Pacific Northwest. Well, she's not going to be coming home, not quite yet, as Larry has some cruising plans on the East Coast for her. Larry has always had a dream and it wasn't necessary for the equal equality of people, no it was to cruise the Great Circle and this boat will be perfect. But first, in October, we'll take her down the Intercostal to Savanna, and then come home for the holidays only to return for the cold winter months here and take her south to Florida and maybe eve over to the Abacos! Then, before hurricane season, we'll get her back up to New York and then start the trip up the Hudson to complete the Big Circle.
Eventually we'll bring her to the Pacific Northwest.
WHAT'S ZIGGY'S OPINION OF ALL THIS?
What does Ziggy think? He doesn't have a clue yet but I think he's going to like this boat much better than the Nordhavn as it has more windows for him to look out and the wrap arounds for the cockpit are lower so he can see out, unlike the Portuguese style on the Nordhavn that was tall and solid. And he can run around the front of the boat unhindered which certainly has it's pluses and minuses for us as he can get into more trouble. I think he'll like it and feel like he's in control, like the King Pin that he is!
Well, I certainly don't have to reiterate how excited we are and it will be darn hard to wait until October to go enjoy her but we want to enjoy our summer here on San Juan Island with the Protector as we didn't get her until after the season last summer, so have lots of adventures to catch up on with her here.
REMINICING
It's obvious that we were in good spirits as we headed back over the Bay Bridge towards Annapolis. We couldn't help but reminisce and point to different places we had been with the Nordhavn a couple years back. It will be fun in the following months to contemplate returning here in the fall to cruise again, to see all the amazing beautiful areas of the Chesapeake again. It was great pulling into Annapolis, driving over the bridge and take in that amazing view of Naval Academy and getting a glimpse of a group of beautiful schooners returning to harbor after an afternoon of sailing on the Chesapeake. The little streets were filled cadets jogging down the cobble stone sidewalks under brilliantly blooming cherry blossom tress, past quaint colonial houses, and flower beds full of bulbs bursting with color. We made it just in time to the downtown circle by Ego Alley to run in and buy some cruising books at Faucets (the local marine store) and then head to a local tavern for some delicious dinner of steamed shrimp and crab cakes.
ANOTHER REASON TO TRAVEL BY BOAT
Little did we know though that this perfect day would end on a sour note as we headed to the car after dinner to pick up a message on our cell phone from American Airlines letting us know our flight tomorrow for home was cancelled. It was just our luck again as it happened that we picked the very day to travel when the biggest shut down in the airline industry occurred, ever. Over a 1000 flights had been cancelled already and more to come. They notified us that they booked us out on a flight 3 days later! After an exhausting evening of what seemed like 100's of calls to the airline to only get rejected each time after several passes through their annoying automated system to only and frustratingly get a dead end busy signal at the very end of each call. Finally, Larry miraculously got through to a live person and massaged his way onto a flight the very next morning leaving from another nearby airport. I consider us lucky after we heard how many flights were cancelled and how many people were stranded. So we're thanking our lucky stars. I'm sick of the way travel has become. It used to be fun but now its torture. Hey, we're back and the weather seems to be getting warmer. People are putting their boats in the water again, and spring break visitors are showing up more and more to the island. Winter is almost over!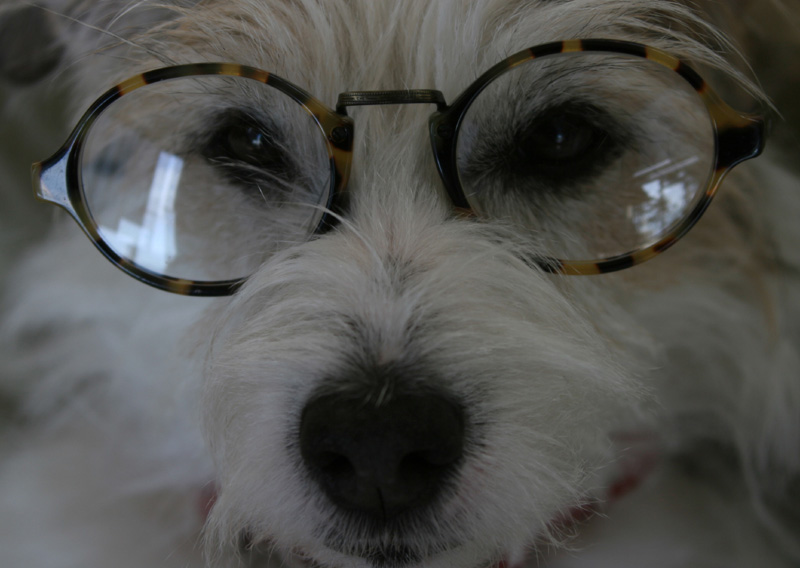 Ziggy says ..What is a Lobstah Boat ?
If you are curious about the historical background of Down east boats, including their evolution and design, here are two articles that explain it's original commercial purpose and it's transformation to also include a nifty little cruising vessel.
Articles from Fishermans Voice & Atlantic Boat Company